Healthy Chicken Tortilla Soup
When the weather starts to get cooler, there's something extremely satisfying about a big bowl of warm soup. I decided to create a tortilla soup recipe after making the mistake of looking at Pinterest while hungry. Needless to say, I was practically foaming at the mouth while scrolling through pictures. And the next thing I knew, I had a Santa-length list going of all the groceries I needed.
( Spoiler Alert: There are more recipes to come from my Pinterest food binge. Or should I call it my "Bingeterest"? )
To be honest, it took a few times for me to finalize this recipe. My goal was to make a recipe that has a good amount of flavor without serving you a "spice-punch" to the mouth. And the first few times, I had Conor Cumin McGregor in my bowl.
When I did get my recipe down, my husband claimed that this recipe was, "One of the best dishes I have made him." While I think that claim is a little lofty, I will admit that I am averaging around 1.5 bowls per day over the last week. So, I guess I can't argue with him that much.
HIS VS. HER SOUP —
When I cook, I typically find myself making a "HIS" and "HER" version of the meal. Since Meyers is 7ft tall and a professional athlete, he needs to EAT! To solve this, I slow-cooked some sprouted basmati rice and cut up extra avocado and gluten free tortilla strips for his toppings. This recipe is already packed with protein from the shredded chicken. So between the rice, tortilla and avocado, this soup could fulfill his carb and fat macronutrient requirements AND still feed me as well.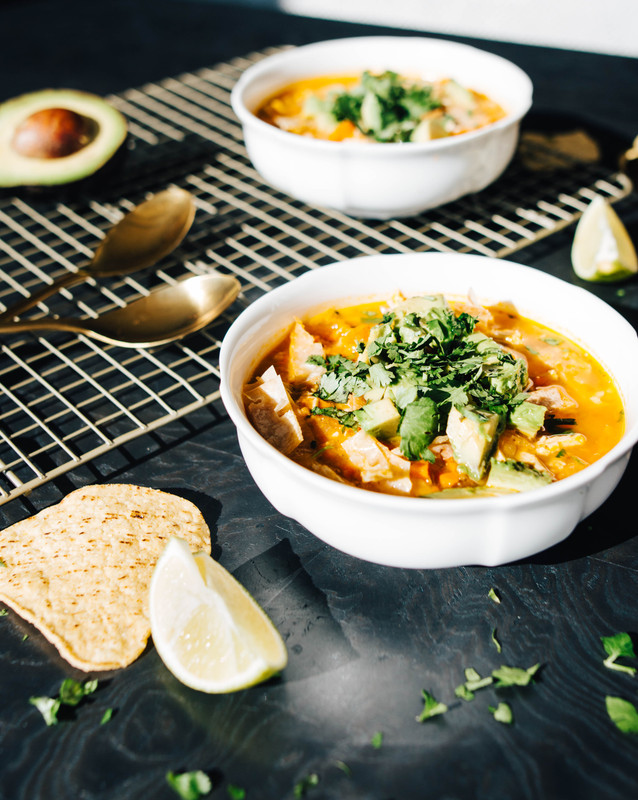 HEALTHY CHICKEN TORTILLA SOUP
This healthy and delicious chicken tortilla soup recipe is the perfect balance between flavor and freshness. Also, I have included a low-carb and high-carb version to meet every person's dietary needs. This recipe is completely gluten-free and dairy-free.
prep time: 10 mins
cook time: 35 mins
total time: 45 mins
ingredients:
1 tablespoon olive oil

2 large carrots

1 onion

1 tablespoon of minced garlic

1.5 teaspoons cumin

1 teaspoon oregano

1/4 teaspoon chili powder

1.25 pounds chicken breasts

3 cups low-sodium chicken broth

1 can (14.5 oz) diced, canned tomatoes

1 tablespoon of lime juice

1 tablespoon of chopped, fresh cilantro

1.5 teaspoons sea salt

1 teaspoon fresh cracked pepper

(Optional) Basmati brown rice
Toppings
2 gluten-free tortillas

1 avocado

Fresh cilantro
instructions
Prep Step: Chop the carrots, onions, and cilantro. Blend the tomatoes in a blender until smooth and prepare tortilla strips. (Optional: Cook the Basmati brown rice according to the packaging instructions.)




In a medium stock pot, heat the olive oil over medium-high heat. Add in the chopped onion and carrots; cook, stirring frequently for 5-8 mins until carrots are soft. Add in garlic, cumin, oregano, and chili powder; continue to stir for a few minutes or until garlic turns a golden-brown

.




Add chicken broth, tomato puree, lime juice, chopped cilantro, salt, and fresh cracked pepper. Add chicken breasts and reduce heat to medium-low. Gently boil the

mixture

until chicken is cooked through, about 25-30 minutes.

Remove chicken from broth mixture and shred using two forks.

Ladle the soup into four servings and distribute the chicken evenly. Top with tortilla strips, avocado and cilantro.
For Tortilla Strips:
Pre-heat oven to 350 degrees, line baking sheet with foil or parchment to save clean up time. Cut your gluten-free tortillas to your desired strip size and place on pan, lightly drizzle or spray olive oil on strips, toss strips in oil to evenly coat, sprinkle salt on top and bake for 8-9 minutes or until lightly golden brown. Set aside.