Pumpkin Pecan Protein Pancakes
IF YOUR MOUTH
IS WATERING,
THAT IS COMPLETELY NORMAL.
When I made these pancakes for my husband, he couldn't believe that they were made with protein powder. And if you've ever made protein pancakes before, you'll know that's pretty much the nicest compliment you could ever receive.
Typically when you cook with protein powder, you have a very distinct and over-bearing flavor in whatever recipe you're making. So the fact that this recipe masks the overbearing protein powder notes and compliments this particular vanilla protein flavor, that's a pancake JACKPOT.
In this particular recipe, I used a collagen protein powder from Bulletproof. Collagen is best known as a naturally occurring substance in your body that helps prevent wrinkles and repair tissues. But, the current collagen rage is all about digesting the hydrolyzed form of it (collagen peptides) in beverages, snack goods and powders.
If you would prefer to use another type or brand of protein, have at it! I would just note that the pancake's flavor is largely dependent on the protein powder source. So if you DO substitute, I would strongly suggest to replace it with another vanilla option!
Yield: 1 Serving or 3 Pancakes
Pin it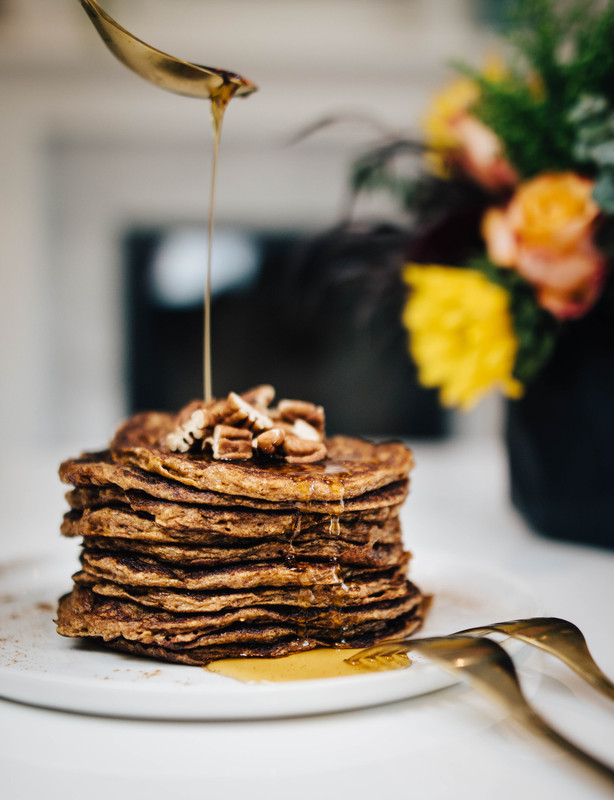 Pumpkin Pecan Protein Pancakes
prep time: 5 mins
cook time: 10 mins
total time: 15 mins
ingredients:
Pancake Batter Ingredients
1/4 cup pumpkin puree

1/4 cup egg whites

1.5 scoops (30g) Bulletproof's vanilla collagen protein powder

2 tbs of Bob's Red Mill gluten-free quick cooking oats

1 tbs chopped pecans

1 tsp flaxseed

1/2 tsp cinnamon

1/4 tsp baking soda

1/4 tsp baking powder

1/4 tsp pumpkin pie spice

Pinch salt

Coconut oil to grease the pan

OPTIONAL: A dash of vanilla extract if your protein powder isn't vanilla flavored
Toppings
1 tbsp of maple syrup, agave or sweet alternative

Chopped Pecans
instructions
Directions
In a medium bowl, whisk together the dry ingredients - collagen protein, cinnamon, flaxseed, baking powder, baking soda, pumpkin pie spice and salt. In another bowl, mix together the wet ingredients - pumpkin puree, egg whites.

Add the dry ingredients to the wet mixture and whisk together until batter is smooth. Fold the pecan pieces and oats into the mixture until evenly distributed.

Heat a griddle or non-stick skillet over medium heat. Coat the pan with coconut oil.

Pour 1/3 of the batter into the center of the skillet. Cook for 2-4 minutes until the bottom is cooked through, and then flip. Cook the other side for 2-4 minutes until lightly browned. Repeat with the remaining batter.

Add on your desired toppings. And, ENJOY!